City Without Altar
Synopsis
Synopsis: City Without Altar is a poetry collection and play in verse that explores what it means to live, love, heal and experience violence as a Black person in the world. The titular play in verse that sits at the center of the book seeks to amplify the voices and experiences of victims, survivors and living ancestors of the 1937 Haitian Massacre that occurred along the northwest Dominican/Haitian border during the Trujillo Era. Between the scenes of the play are "interludes" that explore a different kind of "cutting" and what it means to feel othered because of illness, disability and blackness. Ultimately, City Without Altar is a meditation on being/feeling "blacked out" by the archive, on the world stage and in one's daily life.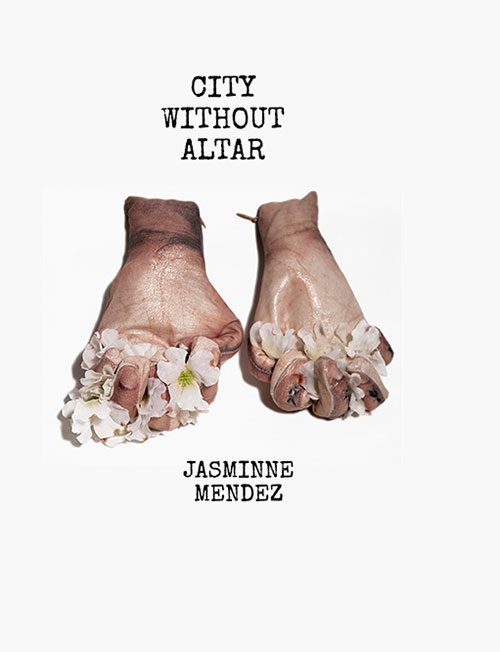 Blurbs
Jasminne Mendez excavates the terrain of the past, delves into personal and historic archives, and searches for fragments necessary to build a monument to the dead in service to the living…Here, theater, in combination with the interplay of cartography, medical X-Ray, and persona, perform in a powerful lyric juxtaposition. This extraordinary book urges readers to ask who will remember and how will we deal with lacunas in our histories?
author of The Boy in the Labyrinth
Jasminne Mendez refocuses, re-electrifies and finally defines [documentary poetics] with this strikingly inventive exploration of how trauma scissors through borders, numbs families, feeds on the purple specter of violence and relentlessly forages for root in the body. City Without Altar is a dazzling melange of script, prose, stanza and image. Its brash and bellowing heart is a dramatization of the callous 1937 Haitian massacre, with heart-rending resurrection of both sufferers and survivors, but the poet is relentless with her magic as she unearths deep-buried parallels to her own "unblackening" and the way grief takes hold of her hands.
author of Incendiary Art & Blood Dazzler
Mendez's City Without Altar is a powerful testimonial to the little-known Haitian Massacre of 1937, in which over 20,000 Haitians and Afro-Dominicans were slaughtered in the space of a few days… A santera poet Mendez makes an altar for these victims and resurrects and redeems them with evocative skill and passion… Not since Ntozake Shange's For Colored Girls Who Have Considered Suicide When the Rainbow is Enuf have I been so deeply stirred by a poet's ability to give vivid voices of those who have been silenced and forgotten. City Without Altar is poetry that is close to ritual, and Jasminne Mendez, nuestra a visionary poet-priestess.
author of In the Time of the Butterflies & Afterlife