a record of how the mother's textile became sound
Synopsis
a record of how the mother's textile became sound is a lamentation, a memory, a deconstruction and reconstruction of the author's mother's life through an examination of the complex multilayered textile/text/sound axis. It is about the impossibility/possibility of recording memory, how daughters are tethered to mothers though root language, how mothers are other to daughters, and how we are on a journey to arrive at the other within the self. It is about continuing to arrive at the other still alive even after the mother dies. Distance is not widened to elimination nor condensed to an implosion; it is at a careful proximity where the other voice that is mother is able to continue to speak. a record of how the mother's textile became sound explores how text/textile/sound are vehicles for memories—textile perhaps serving as a bridge between text and sound.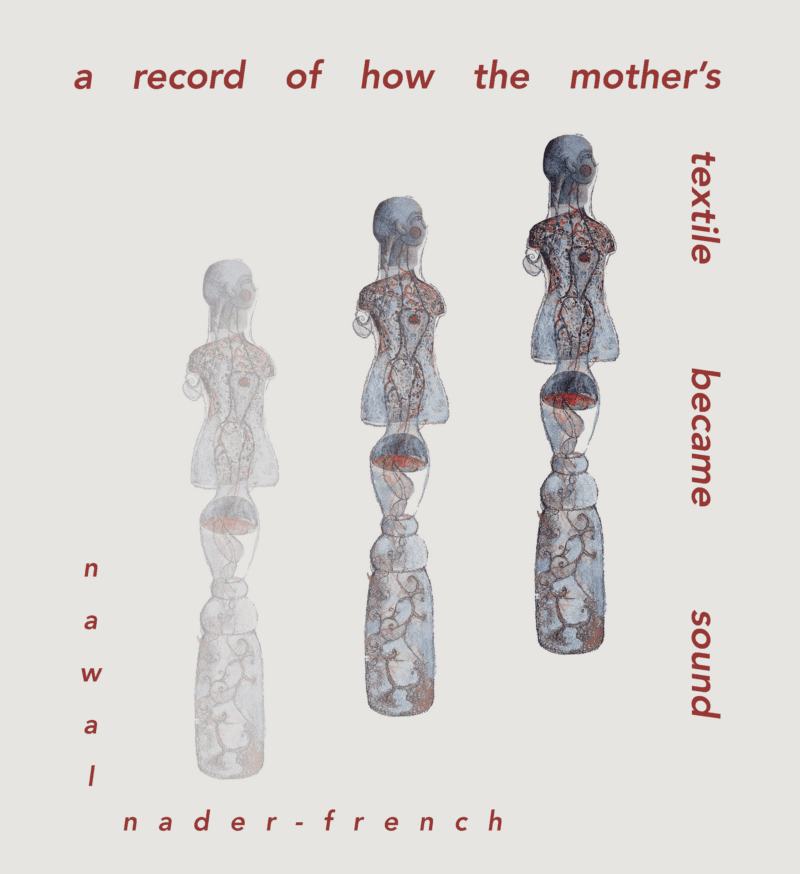 Blurbs
Nader-French presents a formidable tapestry that activates not just an awareness and acceptance of life's opacity, but an insistent recognition that we must understand such illegibility as a vital part of the human experience — perhaps a sacred one. Personal, yes, and global, too; multilingual in story and image stretching into a building clarity. If a mother is "told to shrink," what can a daughter do but demonstrate her infinite expansion? Read a record of how the mother's textile became sound and allow yourself into the mind and heart of a writer stitched to the page and threaded beyond — the silence of scars gorgeously accounted for and made "a hum for all things," an intricate incantation composed as a place "where the sound out of the word unfolds into light."
Nawal Nader-French rides the syllabic, guttural utterance of language onto the cloth of the blank page, which becomes her mother's marked body. Part lyric, part philosophical treaty on the nature of language in relation to death, and breath, her work moves beyond eulogy or ode toward the transformative potential of language to resurrect the other within us. This book is a gorgeous debut from a poet whose work is both precise and awe-inspiring. a record of how the mother's textile becomes sound is a book I will return to often.
In a record of how the mother's textile became sound, Nawal Nader-French animates an acoustics of grief where "the inexpressible is seized from an invariable stem." It unfolds from intimate etymologies evoking both sympathetic and synaesthetic resonances of a life that is always several lives, intertwined. Working with threaded perceptions that live between the image and the word, Nader-French has expanded the grammar of touch into a moving sonic mosaic.