Have You Been Feeling Blue These Days?
Translated by Eunsong Kim, Sung Gi Kim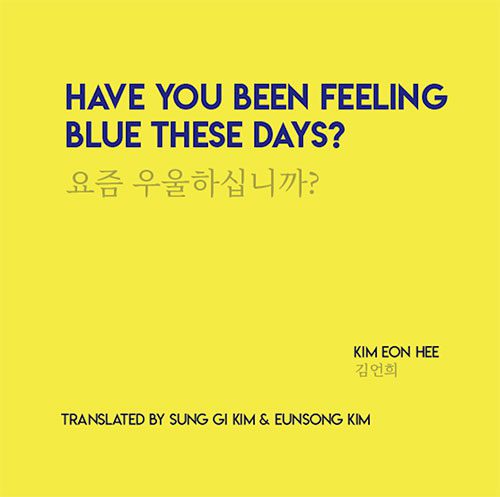 Blurbs
Sung Gi Kim's and Eunsong Kim's deft, nuanced, and unmannered translations of Kim Eon Hee's poems introduce a genuinely exciting poet to the English-speaking world, one whose work reveals for us the limitations of our conceptions of what poetry is and the colonial legacies that structure our basic concepts of poetry, such as the gendered and raced expectations of the poetic speaker and of what counts as "experimental" writing. Kim's poetry, as the translators write, is "unafraid of graphic disappointment or the pits": she brilliantly violates our idea of what is acceptable for an Asian female poet to say out loud. The backdrop to Kim's playful "absurdist" poetry is the neoliberal and neocolonial context of contemporary South Korea and its relationship to the United States, the two countries in the Kims' words, "economic and political collaborators." They rightly describe Kim Eon Hee's poetry as "an unexpectedly politicized space," as, equally so, are their translations—and, indeed, all poetry and all translations.
author of Thinking Its Presence: Form, Race, and Subjectivity in Contemporary Asian American Poetry
In Have You Been Feeling Blue These Days? Kim Eon Hee writes compellingly against the grain of neocolonialist, neoliberal K-culture, producing a poetry that grapples towards weakness, the Korean undercommons, language's and life's true, failed becoming-in-the-world. Mirroring Kim's practice, Sung Gi Kim and Eunsong Kim brilliantly record their own anxiety and impasse as and in translation, in the introduction and the body of the poems themselves: the result is a resonant and clarifying "semblance of feeling…we can witness only outside of language."
author of Counternarratives and translator of works by Hilda Hilst, Alain Mabanckou among other