Iatrogenic: Their Testimonies
Synopsis
Danielle Pafunda's third collection Iatrogenic: Their Testimonies is a glittering gloaming sci-fi pregnancy epic. It takes place in half-light and lullaby, blaze and shiver. The poems owe a debt to Margaret Atwood, Matthew Derby, Donna Haraway, Edgar Lee Masters, and Monique Wittig, among others, but this book is an animal unto itself. A collaborative of women quits our world for a compound of its own making. They conjure and impregnate cyborg surrogates. We hear from these women, their surrogates, and a small band of renegades. Lacunae abound, history rears, death and its vicious proxy loss stalk. All are perched, maggot visionaries and at the same time most regular.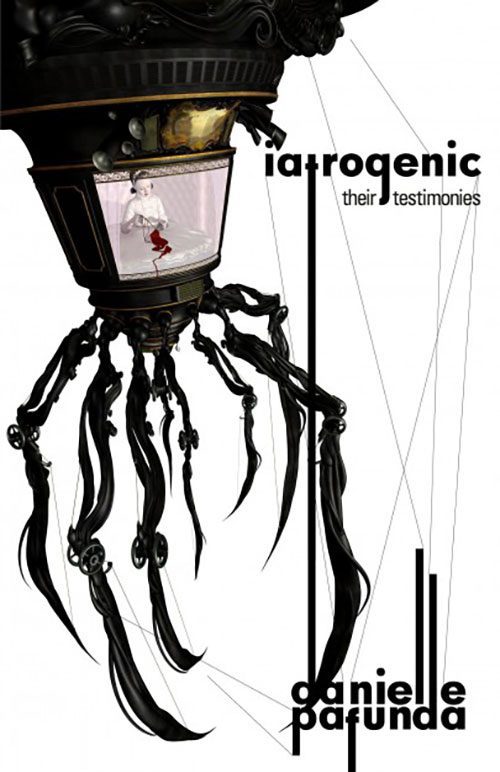 Blurbs
Somewhere between Sylvia Plath's ice-box babies and Joseph Beuys's mammalian trinkets, Danielle Pafunda's gothic sci-fi tale stutters, twitches and contorts its body-turned-collection-of-souvenirs-from-an-awkward-year. The tourniquet is confused with the leg, not so much to subvert the distinction between the natural and unnatural as to present a world where the decoy is more than real.
Danielle Pafunda's Iatrogenic is that rare book for which we can never be ready. It is a fat valise of incendiary poems. Where has it come from? How should I know? Perhaps Lady Pafunda wrested this language from birds. In any case, she has infected me and recruited me with her 'thick sting of pleasure.' There is nothing extinct about her.