Love Dream with Television
Synopsis
Love Dream With Television wonders through the ways in which television, film, advertising, sporting events, and celebrity culture weave their ways into our lived experiences not only of the world but of ourselves: our relationships, our identity structures, our politics, our daily lived experiences of bookstores, national parks, museums, going to the gym. It's a book informed by the place and community in which it was written; Tucson and its queers have pushed me to be more in my body, more in conversation with place and spirit and alchemy. The body that wrote this book was stretching more, trying to breathe and look around and feel.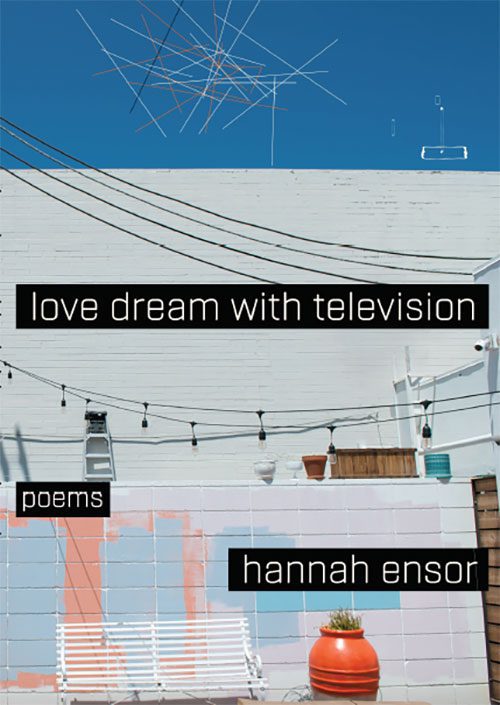 Blurbs
The thing that got me hooked at first on breath / is how much warmer it is coming out than going in." Coming out hot is Hannah Ensor, in "Breath," in thought, in humor, in "radical compassion." Her busy observational intake can be chilling or quotidian—tracking what the eleven Arizona electors decide to do anyway or what it looks like "being white watching Friends"—and what she processes of it and returns into the world is galvanized and keen, radiant and human.
author of A Several World
In Hannah Ensor's Love Dream with Television, markers of time attach and untether, be it yesterday in 2012, today in 2015, or even just now. The work finds latitude between Tucson and Iceland, in the media sphere of entertainment, in the celebrity of John Travolta and Beyoncé, and in the TV emotions born of reliability and alarm. Anne Carson and LeBron James are equally alive for an imagination prone to experiment an embodied self in desiring flux, the meanings of being white in the US cultural arena, and the artistry of sport and spectacle able to engender a poetics: "I keep using words as if I know / what they mean. I want my thoughts / to refuse their own habit energy, / but then it would not be habit.
Hannah Ensor writes long enough poems that you have to keep reading and ones so good I want to keep reading. They're a little sci-fi. Or maybe just true. She keeps changing the subject then running it backwards so you know where you were in the middle of all these little bits and pieces of nature that flutter like a tree that actually wants to talk to you.
author of over 20 collections of writing
Hannah Ensor's Love Dream with Television dovetails the myriad anxieties produced by contemporary life with a series of philosophical queries into the nature of our being, our social existence, our feelings for people, and our propensities for desiring the things that we no longer desire. Amid such complexities, amid replay and amid click pause and amid re-run, the radiance of what has been thought, and of thinking in various bodies in minds emerges not as preconceived dicta but as something that comes very very close to the endless variables of thinking itself, born, re-born, turned over, discarded, picked up and examined again. A stunning debut.
author of 7 Controlled Vocabularies and Obituary 2004: The Joy of Cooking Hannah Ensor writes long enough poems that you have to keep reading