Choose This Now
Synopsis
I don't know what to think about things unless we talk them out first.
Inseparable friends Val-and-Tal are used to making their decisions together. But what happens when their choices become their own? CHOOSE THIS NOW, a novel-in-stories, illuminates the small moments that shape their lives across nearly twenty years. On Val's 21st birthday—which falls on Halloween—a sudden act of violence interrupts a longed-for kiss. This unfinished moment haunts Val year after year until she materializes in a new town to confront her past. Tal, an aspiring painter, vacillates between dedicating herself to art and literally burning it all down. As they fall in and out of love, start and restart careers, and become mothers, Valerie and Taline struggle to define themselves, with and without each other. CHOOSE THIS NOW takes on art, labor, romantic love, pregnancy, and parenthood—and the role of friendship in forging a life.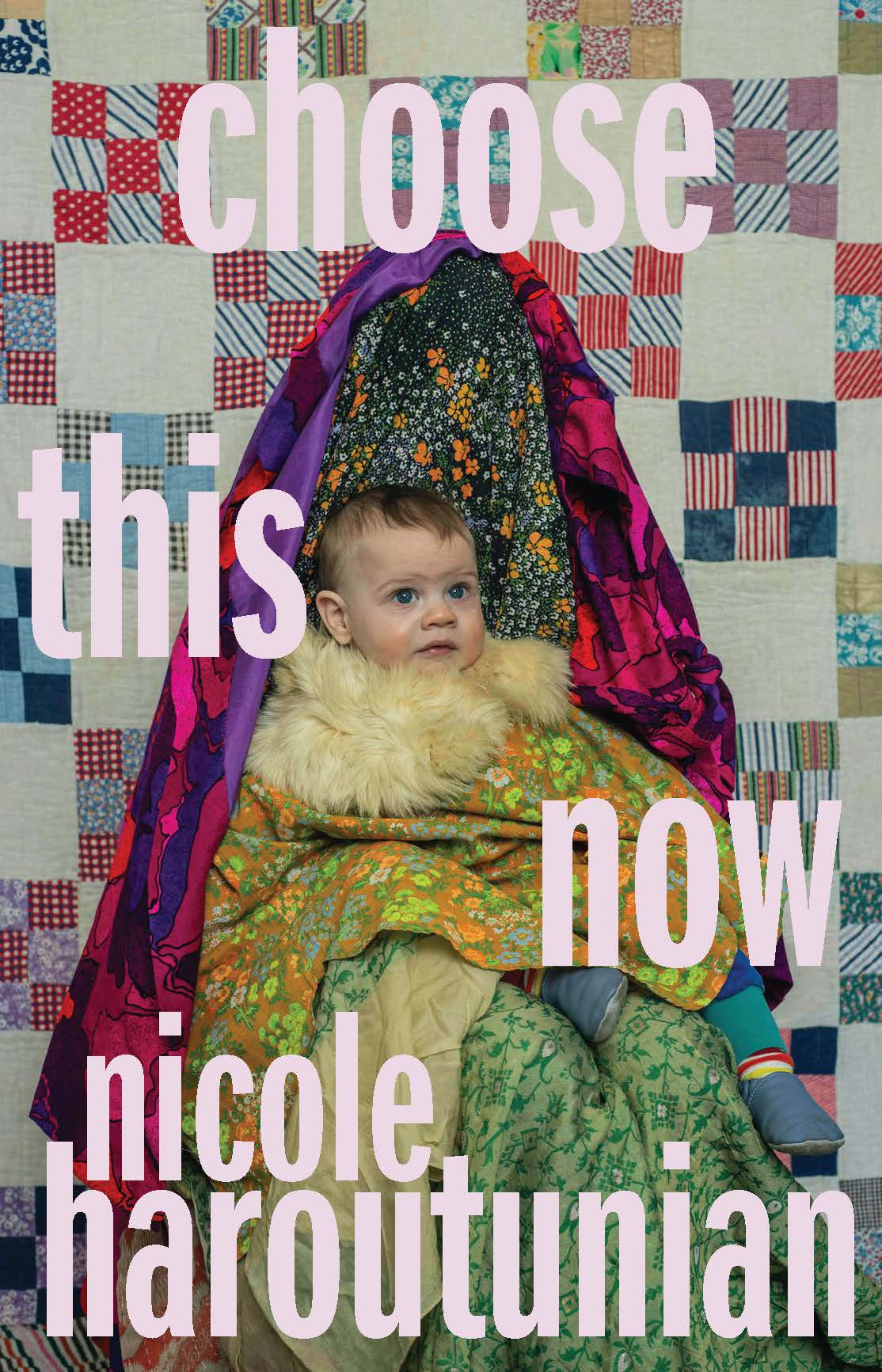 Blurbs
Choose This Now is a sparkling, intimate look at women's lives. Haroutunian's succinct prose and characterizations, her expansive interconnected storylines, and her deft hand in weaving together her themes—friendship, desire, striving, parenting, aging—make for a lovely reading experience. I was sad to leave these women and their ordinary, beautiful lives behind. I like to think of them out there in the world of art, continuing to orbit one another through every stage of our brief time on earth.
author of "Mobility" and "The Golden State"
Nicole Haroutunian's Choose This Now begins with alternating short stories about two best friends from college and goes on to create an entire world. The stories move through time—friendships and marriages and pregnancies and birth and also failed art projects and inappropriate police officers and more than one drunken party where bad decisions have enormous consequences. It's a beautiful, beautiful book.
author of "Hurricane Girl" and "Very Nice"
Nicole Haroutunian's brilliant wryly rendered novel-in-stories Choose This Now is knitted together by friendship, heartache, and her great affection for her collage of compassionately drawn characters. The novel is filled with smart meditations on parenting, dating apps, sex, and art, and includes one wildly discrete suburban orgy. I enjoyed every word, loved all the women who inhabited its pages, and inhaled every twist and turn.
author of "The Pessimists" and "What to Do About the Solomons"
Choose This Now follows a group of women after a harrowing incident at a Halloween party, as they grow up, grow apart, and grow together, in a perceptive, insightful, and compassionate exploration of art, achievement, motherhood, interconnectedness, and the enduring and evolving power of solidarity and friendship between women. Haroutunian uses significant moments as a painter might use planes of light to create a depiction that is moving, beautiful, and true. The novel masterfully works with time, showing its presence and effects on the characters' lives, but also using it as a means to craft deeper multidimensional pictures of each person's core, incorporating but transcending their roles as mothers, children, workers, artists, or friends. This book is brilliant in the use of its form as a novel-in-stories, fully exploring the potential for texture, connection, and space in between chapters. It gives us both the longer-term propulsion and emotional connectedness of a novel, and chapters that are beautifully crafted and satisfying on their own. Each note, image, story, in this novel causes a vibration, a ripple effect. Each note splits and multiplies. I absolutely loved this book.
author of "Mother/land" and "Craft"