Besiege Me
Synopsis
A new collection six years after Nicholas Wong won the Lambda Literary Award for Gay Poetry, Besiege Me opens with a timely mocking tone that confronts the tension between China and Hong Kong. Poems in the book speak queerly of urban existences crushed by political and economic powers––"What cities & bodies deny a sometime-crisis,/ not knowing they're a series of which?" Behind the portrayals of the speaker, his parents, his home city, and domestic migrant workers there, the collection boldly outlines the vulnerability of entrapment and its masochistic pleasures. Besiege Me seeks for a redefinition of transcultural poetics with its linguistic playfulness.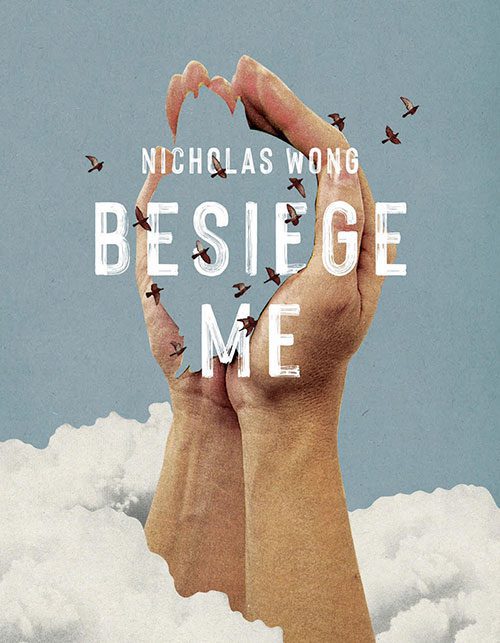 Blurbs
The human struggle lays itself bare as the speaker in Nicholas Wong's extraordinary collection, Besiege Me, reveals. The body is a site of longing, love, wounds, and powerful intimacy. The fight for individualism and freedom is traversed through a lush linguistic and visual landscape that is characteristic of Wong's poetic invention as each poem becomes a delicate manifesto. There is so much desire in these poems, so much pain and revelation in face of what feels to be insurmountable clashes between the speaker and family, the self and home, the body and the boundaries from which it yearns to break free.
Nicholas Wong's Besiege Me is both a book of praise and an indictment of Hong Kong and himself. Within its pages, the father is often the vehicle for this work: "Remember your first spoken word? / Father. /
Like affliction? / Also like a wish." These are lacerating and primal poems that question and, as a result, become haunting. These poems burn and sting more sharply than any tear gas lobbed by authorities.
Charting the battlegrounds of family, city, country, world with tote bags, tear gas and soufflé hairdos, the poems in Nicholas Wong's Besiege Me are tender and terrifying, intimate and capacious, reminding us that we all want alternatives, but that the world is "slow in its giving."