GeNtry!fication: or the scene of the crime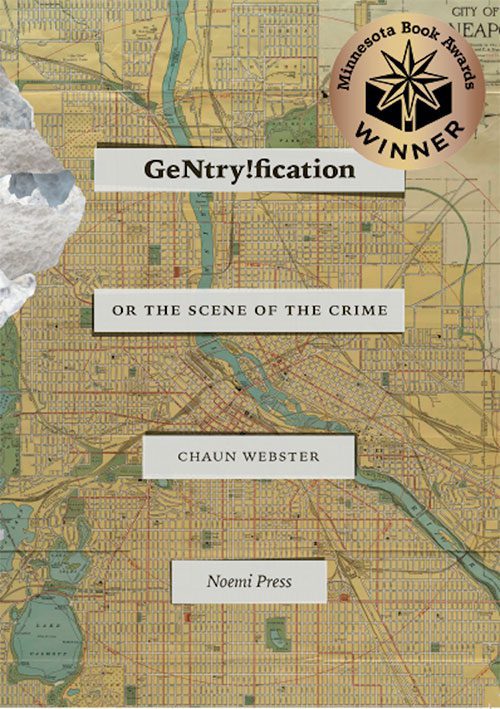 Blurbs
With consciousness and verve, deft wordplay and striking design, GeNtry!fication: or the scene of the crime offers epic, testimony, and premonition. Pinpointing and pulsating North Minneapolis, this book reframes a site of black imagination and resistance. Here, on the corner of Penn & Lowry, Chaun Webster hobnobs with Lorde, Davis, Smith, and Wells-Barnett, not to mention Baraka, Brathwaite, Rankine, and Ligon. Here, too, the maroon prophet child runs through with quantum feet reminding us to rant against trouble. Like your rent and the North Star, this book is what's up!
author of Swallow the Fish
Check this discourse of trouble. You must immediately read this radical work of black refusal and black manifest/station. Chaun Webster is doing the subterranean cartographer's work of spatializing a people's topographies of resistance and insistence. Here in the sundown town that is the entire black diaspora-united states-north Minneapolis, Webster addresses the signs and signifiers of the collision of black bodies mapped onto the white imagination's terrorism as geography. Here is din in high contrast. Here is the runaway notice as city neighborhood, as body, as il/legibility, as a ticket to exile and railroad and high-voltage language lightning strike. A kind of symphony to collective memory and (a) map/s of liberation/s passed through the glittery cosmos of black minds, as if black consciousness were always the dark, gorgeous volta, always on the move, slippery when turning our attention back onto the scene of the crime of relentless white colonial violence over black space and the body of the black citizen. Flight, fight.
author of Unbearable Splendor
Were I to ride the number 19 bus through North Minneapolis, there is no one else I'd rather run into than the runaway-trickster-poet, Chaun Webster. If this book doesn't make you nervous, then step back and put your ear to the ground– listen to "what lay between and around the subject," in that forbiDIN space, at the corners of Lowry and Penn. Along these streets lies this book, a series of rogue communiqués for those deemed "out of place" and in need of an insurrectionary survival text.
author of The Somnambulist
Chaun Webster provides not only liner notes, but typography itself for some TYPE of riot. Not just the sound of breaking it down, but also the look of what language has done and what we must do to it if we would free/face/find truth or possibility anywhere here (in ourselves and each other.) This is a text for saying, showing and studying, steeped in the scariest and most necessary black radical thought of our times. Run towards reading this, read this on the run, run with this and run on.
author of Spill: Scenes of Black Feminist Fugitivity