Greyhound
Synopsis
A memoir-in-verse about the links between movement and how it influences gender identity, perception, and performance, utilizing the bus terminal as a throughway to discuss transition. The book discusses issues that deal with safety, passing, rural and city queerness, police and prison abolition, and autonomy. Greyhound is one poem, routed in the authors life, that is the journey and the destination and how those two places are linked through the movement between each other. It is a book for outcasts, true-freaks, weird-o's, and forever and always anyone trans.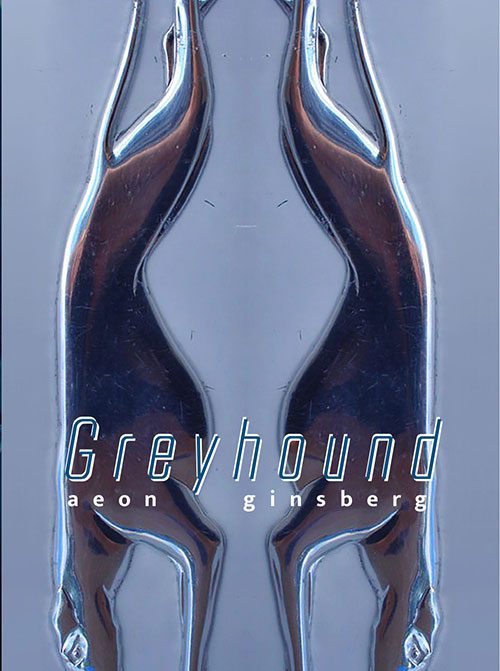 Blurbs
In Aeon Ginsberg's debut, Greyhound, we climb onto the bus, onto the Amtrak, into the driver's seat, and are shuttled through all the glorious and fraught miles of transness in America. Transness, of course, is not about destination, so much as it is about just being alive—until we are no longer. In Greyhound, the queer body is a pendulum swinging, never true departure, never true arrival. "Liminality, ya know?" Greyhound is a collection that lays us "down in an ocean without fishes," and we can't help but to look up and search for a whole new angle of horizon, can't help but search for the future we deserve.
There are only two genders: depressed and correct"—so declares this astonishing, often funny, politically bold, and very moving book about movement, much of it on the titular bus. Aeon Ginsberg's Greyhound calls to mind queer theorist Sara Ahmed's work on orientation and direction—how normative/imperative narratives of gender create a path on which a body must tread, if to live a safe and recognizable life. If to live. Here is a bus restroom selfie, a bus station self, a restless shifting of selves and ongoing self-critique. Here is a trans femme poet "trying / trying / trying / trying / trying / tiring / trying." Here is a "hope to move against anything / that could possibly grasp me – and refuse it." Here are the dogs inside "greyhound." Here is refusal, then a refusal of that refusal, as gender. Here is a book of winds and departures, tattoos and returns; a beautiful book that recognizes how "[e]veryone is trying so hard to figure out / why we are alive," then says, "[i]t would be a shame to find out, probably.
author of When I Grow Up I Want to Be a List of Further Possibilities
Ginsberg's poems take cliché by the scruff and tear it a new one, rending it asunder. Concepts of destination and journey and traveler are often invoked for people like us; Greyhound re-examines them, exploding not only identity but the categories of safety, beauty, pleasure, utility, and the elements with a rare clarity.
Aeon Ginsberg's Greyhound is a daring feat that charts a shifting conversation with the body. Modular and intimate forms merge to map the voice of friendship, grief, and transition. Greyhound is at once a lullaby and friend, but also an interrogation shot through with persistence. Ginsberg demands, "find me a trans person who is well-fed on joy," and embarks to embody this reinvention.