nature felt but never apprehended
Synopsis
Angela Peñaredondo's nature felt but never apprehended synthesizes poetry, lyric prose, fragmented creative nonfiction, and visual art. They voyage through the junctures of gender and environmental injustices, and its connections between Philippines' histories of foreign invasions and intimacies of survivorhood. Peñaredondo wields queer, diasporic mythmaking, affective experiences of ritual and prayer as an illuminating force in the tangles of intergenerational memory.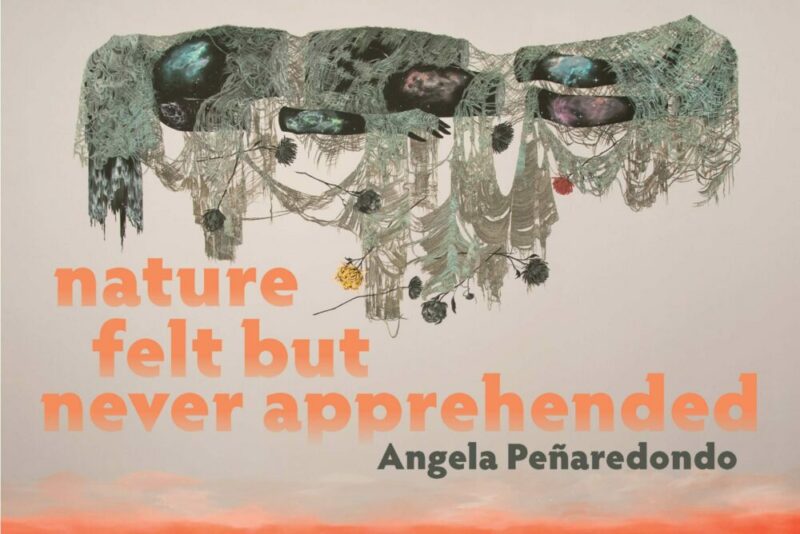 Blurbs
"[W]hat do you do when all your parts bring fire," asks Angela Peñaredondo's nature felt but never apprehended. Without answering, this book is fire's answer. When I say it is brilliant, a word I'm invoking for its hexagonal history and accuracy, I mean it is a book that is sharp while it shines; it is a turning and it is wise; it is a book to see more of the world (its histories and imaginations, its futures and its possible repair) through. If "someone/made you believe/mouth's the limit," come here. Experience what happens "when we allow ourselves/the final feel of our enormities." Thank you, Angela. This book is "light singing through the only hole in the room."
In nature felt but never apprehended, Angela Peñaredondo portrays the worst of human legacy with nature, despite its glory, becoming collateral damage in human wars…The poems arise from the "wonderment of bones splayed out … across an eroded altar." Even a steely word like "geometry" can't hold it together and frays into "geo me try." That this collection's wisdom is accented by the Filipino/x experience makes its lessons more powerful, thus devastating. But the poems also heighten understanding, hopefully on our way to help "hope" avoid a fate as mere "fossil.
Angela Peñaredondo is a profoundly imaginative and subversive writer. Through queer choreographies and archipelagic poetics, she/they excavate(s) archives, unmakes maps, and inscribes mythologies. While this book can be read/felt as a "topography of survival," it escapes total apprehension with "polyphonic quiver.
These poems tenderly excavate a queer Filipinx history on which to build a beautifully imagined queer Filipinx future. nature felt but never apprehended is sensual and attuned to the more-than-human world and its abundant queer ecologies. In one of many refusals to be gaslit by late capitalism and the legacies of empire. Peñaredondo writes "film the police." Through multiple modalities, languages, and histories, Peñaredondo's impressive poetics imagine the innovative survival of a liberated diaspora.