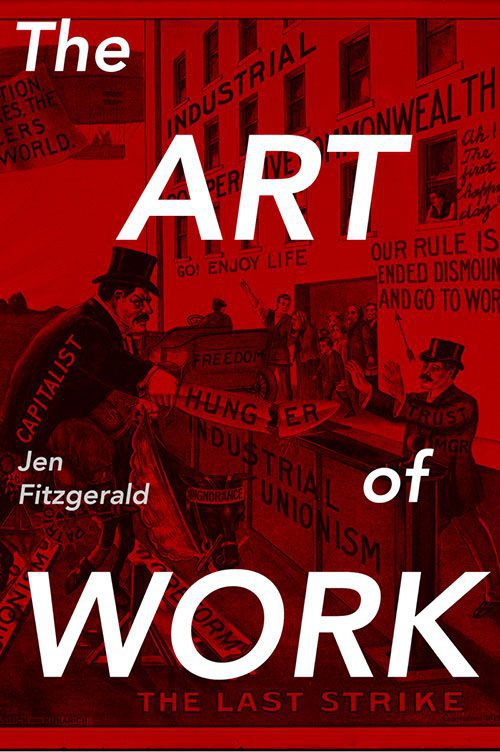 Blurbs
Jen Fitzgerald describes her collection of poems in the Art of Work as being a collaborative labor. How else could it be with her amazing feel for the world of work and the art she finds in it. Her connection is made primarily through those who labor in the processing, retailing, and serving of animal products. Amongst the workers, many members of the United Food and Commercial Workers, there is story telling which brings you into a world which is tumultuous in images and emotions. The workplace which separates families by long hours, the banality, the seldom appreciated skill, the glimpse of friendship, the ongoing struggle to maintain dignity, the solidarity when it exists presents work life at its toughest. Would that there was more light and message of hope. Perhaps that is the point. The organizing and cries for revolt and emancipation will have to come from our throats.
Executive Director, Labor and Worklife Program, Harvard University
Jennifer Fitzgerald's bolts of poetic power are increasingly lighting up the night. In this collection, Fitzgerald's poetics sets out to rethread fragmented personal experience, family lore, socio-cultural prohibitions and allowances, in order to bear down on staid notions of labor and the working body. What's achieved is a historical perspective that has both sweep and depth. What's implicitly rejected is an all-too- easy thumbs up "like" of struggle. Fitzgerald's elevated Intercultural Poetic Competence (IPC), borne of a rigorous examination of the political forces most proximate to her social origins, allows her to radically reframe both speculative and applied knowledges of Solidarity, knowledges long overdue for a retrofitting in the 21 st century. Thus, it is not a "work of art" that intrigues us here, but rather, The Art of Work.
Louis Zukofsky once wrote that poetry's lower limit was speech and its upper limit was music. Jen Fitzgerald's The Art of Work recalibrates these limits for a contemporary working class poetry whose lower limit here is the killing floor or the garden-level apartment and whose upper limit might be workers' comp or, quite simply, a shift coming to an end. The Art of Work turns this "history of necessity" into brilliant, tightly honed verse. It should be read across the classes, across the classrooms, in union halls, at literary festivals, and on the picket lines.