Dream of the Trenches
Synopsis
Part autofiction, part sequential critical engagement, the eponymous essay in Dream of the Trenches investigates and builds upon narrative recursion, self-reflexivity and subjective treatments of time in modern and contemporary writing. Winding through the work of Ben Lerner, it also addresses Ashbery, Woolf, Stein, Lessing, Mathews, Knausgaard and others. An accompanying sequence of 20 micro-essays—each of exactly 150 words—explores the possibilities of formal constraint with torqued language ranging across topics from beauty to popular music to the senescence of lobsters.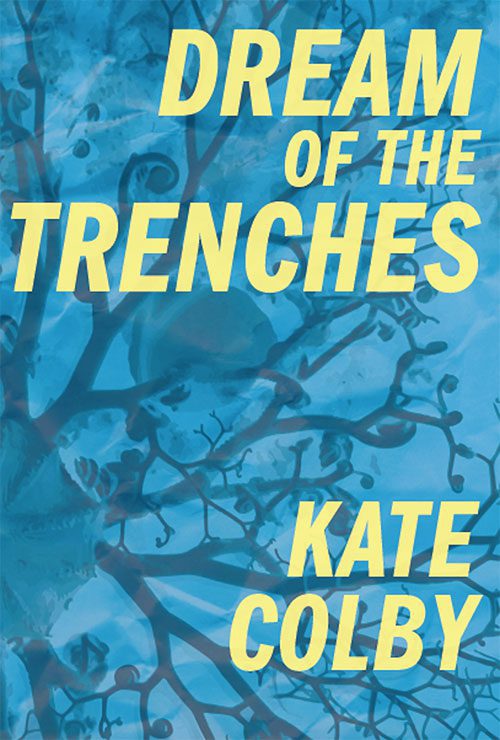 Blurbs
Kate Colby lays bare the very mechanisms of vulnerability in this stunning performance of self-portrait through a wry critical commentary on several other masters of the form—John Ashberry, Virginia Woolf, Harry Mathews, Julianna Spahr, Ben Lerner. Dream of the Trenches generates and implodes self through collision with the self-portraits others—cancelling and revising, redrafting, new noms de plume, new noms de guerre—a self-machine which is also a meditation on the durational aspect of auto-portrait, and on the precarity of living as oneself on a gantry of slow structures, moveable as type, which threaten to collapse even as they launch our next avatar.
Not long ago, apropos of her recent book of poetry, I heard Colby speak about stripping back and whacking language until only essential articulations remained. Do not quote me on this. I'm providing a not entirely reliable narrative around her unsettling use of whacking. It's just that a similar fierceness drives (almost literally) Colby's unrelenting intelligence in Dream of the Trenches. As she tracks memory's workings, the writing races forward and backward at once. And the language starts taking itself apart. This matters. Speaking of matter, as Colby would have it, the journey is apace with controlled, delirious entropy.
If the onset of middle age unleashes a reckoning both with time ("The midpoint of my life will be the midpoint of time one day. Is it ahead of or behind me?") and with material and psychological stuff ("my slurry of assimilated interests"), then one way to think about the measure of a self in media res is as time-plus-stuff. Colby's ambitious, labyrinthine, and wildly intimate eighth book takes this measure, fractally, propositionally, as if from within a hall of purportedly false mirrors that are still the only accessible mirrors on earth. No wonder the mise en abime that recurs as a (self-conscious) trope; no wonder the playful fiction of an entire book being somehow composed during a single drive to a memorial service; no wonder the relentless probing of sincerity and irony, reality and verisimilitude, both in literature—real criticism of actual novels is in here, too—and in life. I want to say this is a meaty book, but it's really a fleshy book, concerned with the tender membrane between a body and time, an involuntary record reflected in "language's rim." Think of it as the parentheses in one of its more dizzying droste-effect lines: "(I'll never survive myself)." Dream of the Trenches is generous, dangerous, exquisitely written and quietly charismatic: it will leave you thrilled, unsettled, and alive.