Her 37th Year: an Index
Synopsis
SYNOPSIS:
Her 37th Year, An Index is the story of a year in one woman's life. Structured as an index, the work is a collage of excerpted conversations, letters, quotations, moments, and dreams. An exploration of longing and desire, the story follows a moment of crisis in a marriage and in the life of a woman who remains haunted by an unassimilable past. Allan Gurganus called an early version of the work a "thoroughly engrossing almanac of desire" when it was published by The Iowa Review.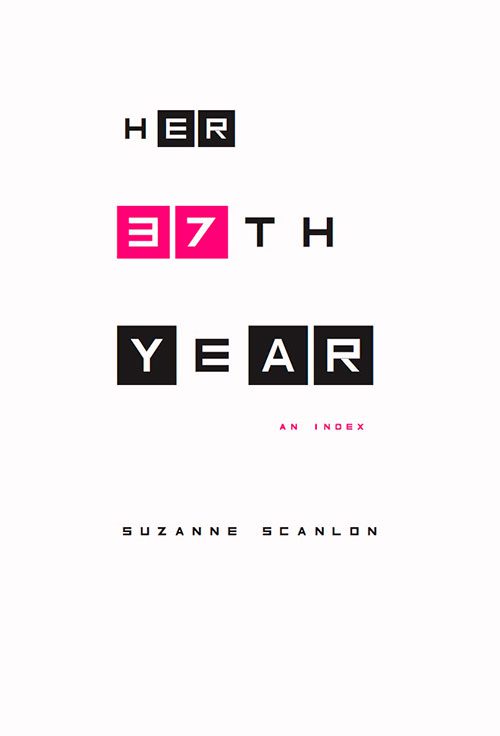 Out of stock
Blurbs
What if you compressed your life, as it existed so far, into a lexicon of impressions and moments that seem to stick, unable to shake from your self and psyche? Suzanne Scanlon's In Her Thirty-Seventh Year, An Index is such a lexicon—beautifully written, attended to tangibly and emotionally. We need more literature such as this. That is, we need literature that questions the way a body and its life unbecomes all that it seemed it was living for and towards.
author of Not Merely Because of the Unknown That Was Stalking Toward Them, The Book of Beginnings and Endings and others
The world looks different after this book. I don't know how else to say it—a simple conversation, a fleeting memory, the seemingly random are suddenly drenched with significance; one woman's life and heart layered with literature, with film, with history and philosophy and psychology. Its structure is brilliant, an archive of longing both poetic and precise; a love-letter to language. I still feel hypnotized.
author of Once I Was Cool and Everyone Remain Calm
While reading Her Thirty-Seventh Year, An Index, I had to set it down many times to either think, sigh, breathe, nod, or say aloud to no one, "I wish I wrote this." Her new book is achingly beautiful— Scanlon writes the normally unspeakable things we think about grief, heartbreak, joy, and feminism. She figures things out for us so that we don't have to. A necessary book I will return to again and again.
author of Women, and Legs Get Led Astray