Slim Confessions
Synopsis
Slim Confessions is an image-text about digital intimacy and visceral material. A work of "autotheory," the book lays in parallel the history of "slime" as a vehicle for horror and entertainment with personal encounters with quotidian slime in the human and animal worlds. At its center is a story of farm labor: A cold spring spent birthing sheep in northern Iceland interspersed with confessions about the author's sexual past. In the lineage of Dodie Bellamy's "Barf Manifesto," this is a book reveling in repulsion and attraction, a personal investigation of physical touch as approximated by visual media, a slow pour of parallel stories that chronicle a research trip gone awry.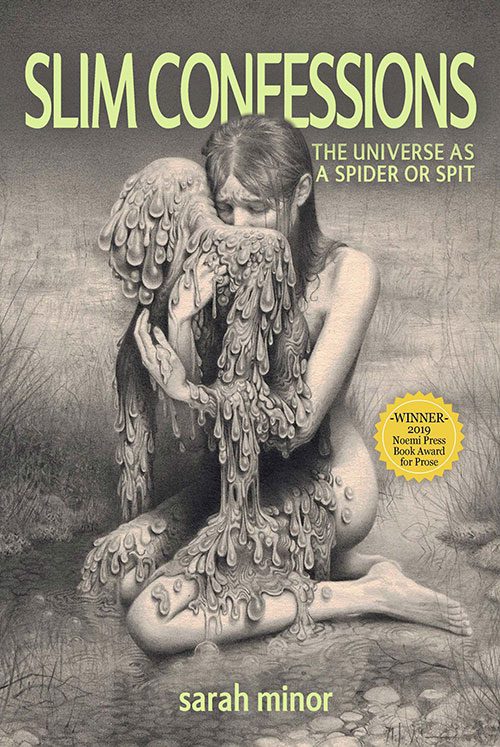 Blurbs
"Slime, the digester, suspender, timeeater, slow-sleeper" — you might prop yourself up on Laura Hyunihee Kim's Entering the Blobosphere: A Musing on Blobs (if you loved that blobservation, and have wanted ever since to slit a blob and think what spills) and meanwhile you could sink your toes into Jenny Hval's Paradise Rot (that dripping, moist and leaking novel) as you read Sarah Minor's Slim Confessions. You might also want to use as your lamp, if it is nighttime, Johanna Hedva's Minerva the Miscarriage of the Brain to remind yourself of a kind of writing that moves (an exuberant, felt report) on top of previous art experiences and collaborations. Now you are ready: This is a slide covered in slime. It slides from Gak to cum, porn to horror, from books to skin to screens eating the world it seems with the all-mouth that Minor— intensively and with a beaming personal touch— theorizes as slime."
Sarah Minor wants to show us what shifts and slithers, what sticks and thwacks (or thwocks). She wants us to think about "what we can read in slime about ourselves through its tropes and scaffolding." From work on a sheep farm in Iceland helping lambs through the birthing season to a series of scholarly takes on horror films and pornography, from Blobs to "star jelly" to money shots, Minor takes us on an inquiry into the interactions of our environment and our skin, our pleasures and our fear. "I write toward what I'm afraid of" she explains "…or perhaps toward something just past that gore that I have wanted to see all along." Slim Confessions: The Universe as a Spider or Spit is a masterly crafted provocation against our aversion to the frighteningly formless.
Sarah Minor digs elbow deep into primordial drives of hunger, fear, sex, getting our muck under her nails. SlímConfessions stretches—assimilating an account of birthing lambs in Iceland, analyses of "the Blob" horror genre cum cumshots, and a dive into adolescent thwocking—without tearing. This is smart, brisk writing, overflowing with potent, pungent sensuousness and vicious, viscous dirt.